Sustainability in Distance Learning
Global MBA in Sustainability
Master of Business Administration (MBA)

3 Semesters

Distance study

60/90/120 ECTS

from €549/Month

New

without NC
You become a specialist in sustainability and set up your organisation for a sustainable future.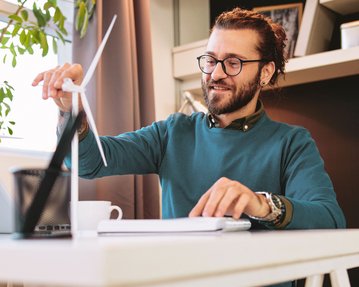 Your programme content
This is what you will learn
You assume social responsibility and want to shape the future.
As a sustainability manager, you will anchor the multi-dimensional sustainability agenda of the United Nations based on the 17 UN Sustainable Development Goals in your organization. You shape the future here and now and you design and implement a corporate sustainability strategy. In doing so, you promote a sustainable change process in business and society at large.
Credit points: 60 / 90 / 120 ECTS
Standard period of study: 2 / 3 / 4 semesters
Language: The programme is taught entirely in English
Start of studies: 1st cohort Sept. 2023, then first of each month
Tuition fees: EUR 549 per month* (Total cost: EUR 13,725) for 90 ECTS
Accreditation: System-accredited
Certification: Submitted for state approval
Your outlook
Your sustainable future
You become a specialist in sustainability and set up your organization for a sustainable future.
In the future, companies will have to address the issue of sustaina- bility in a credible manner in order to secure their competitive advantage and assume responsibility for a world worth living in. Companies of all sizes and industries will need experts who develop, plan, implement and report on strategies to achieve sus- tainability goals.
You will become familiar with the legal requirements and societal expectations for the sustainability of companies and organisations in the private, public and non-profit sectors. To meet these, you will formulate realistic goals, set focal points, and agree on priorities. You will then determine effective measures in sustainability management, which you will implement in practice. You com- municate the achieved sustainability performance internally and externally.
Global MBA in Sustainability
Your Curriculum with 90 ECTS
1. Semester
Empirical Research

6

Foundations in Sustainability

6

Goals and Standards in Sustainability

6

Communications in Sustainability

6

Change Management

6
2. Semester
Data Analysis

6

Ecologic Dimensions of Sustainability

6

Social Sustainability

6

Economic Dimensions of Sustainability

6

♥ Elective module 1

6
♥ = This semester you will choose one of our 7 elective modules.
3. Semester
♥ Elective module 2

6

Master-Thesis

24
♥ = This semester you will choose one of our 7 elective modules.
Curriculum with 90 ECTS
Ready to get started or still undecided?
Would you like to start your Global MBA in Sustainability studies straight away or do you need a bit more time to think about it? Whatever steps you intend to take, we are here for you! Our services are designed to make it easy for you to take the right decision. Find out more about the contents, perspectives and specialisations of your distance learning programme in our brochure - and then take your time to decide. Click on the button below to get your digital brochure now.
Ready to get started?
Then register. Secure your spot in the Industrial Engineering distance learning programme. Download the registration form and fill it out at home.
Admission requirements
These are your admission requirements (90 ECTS)
Completed university degree or equivalent degree (min. 180 ECTS)
Knowledge of the English language level B1
Basic understanding of economics
At least one year of professional experience
If necessary, motivational interview
Tuition fees
These are your tuition fees
Pay less each month for a longer period of time - that's our financing proposal in the Flex 2* model. However, you can still finish your studies within the standard period of study if you wish. You then simply continue to pay after your studies until the total fee has been paid.
Flex 1: 18 monthly instalments à 699 €, totalling 12.582 €
Flex 2: 25 monthly instalments à 549 €, totalling 13.725 €*
*The Flex 2 option is only bookable with residency in the EU and in Switzerland, Norway, Liechtenstein and the United Kingdom.
Your application
This is how you can apply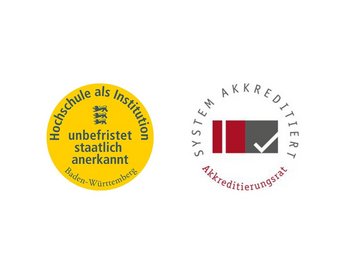 Accreditation & Rankings
Our quality standards
You have high aspirations. And so do we. You can rely on the outstanding quality of our programmes. We are one of the few private universities that enjoy permanent state recognition.
We are system-accredited – which means that the excellent quality of our degree programmes is guaranteed, as is the recognition of your degree. The quality seal of the German Accreditation Council acknowledges the high standards of teaching and learning at our distance learning university. Moreover, we are entitled to use our tested quality assurance processes to accredit our degree programmes internally. You can therefore be sure that the degree you take will be up-to-date, application-oriented and methodologically tested. And you can rest assured that we plan, teach and assess according to certified processes.
Order your free online brochure
Would you like to start your distance learning studies in Industrial Engineering, but are still undecided? Your personal brochure will give you more information about the content and options of your degree programme.
Your free online brochure includes information about:
SRH Distance Learning University
English study programmes
Admission requirements
Tuition fees
and more
Your contact
If you have any questions, our team is happy to help you